Whether you're running qPCR, ELISAs, RNA-seq, scRNA-seq, ChIP-seq, CUT&RUN, or another assay, your results are one of your organization's most valuable assets.
But due to poor organization, many critical results end up underleveraged, misplaced and unable to be searched, or in a static state where they can't be reproduced.
Pluto is revolutionizing how R&D teams manage every critical result - from raw data to the final figures - allowing you to maximize and accelerate novel discoveries.
Build publication-quality figures in your browser, in seconds
Whether its for a company presentation or a peer-reviewed publication, we understand the importance of making each figure perfect.
That's why we're excited to announce a new experience in Pluto to make figure-making faster than ever before. With Pluto's first-of-its kind, interactive figure builder, you can resize and scale your plot, position the legend, and more to get your figures just right.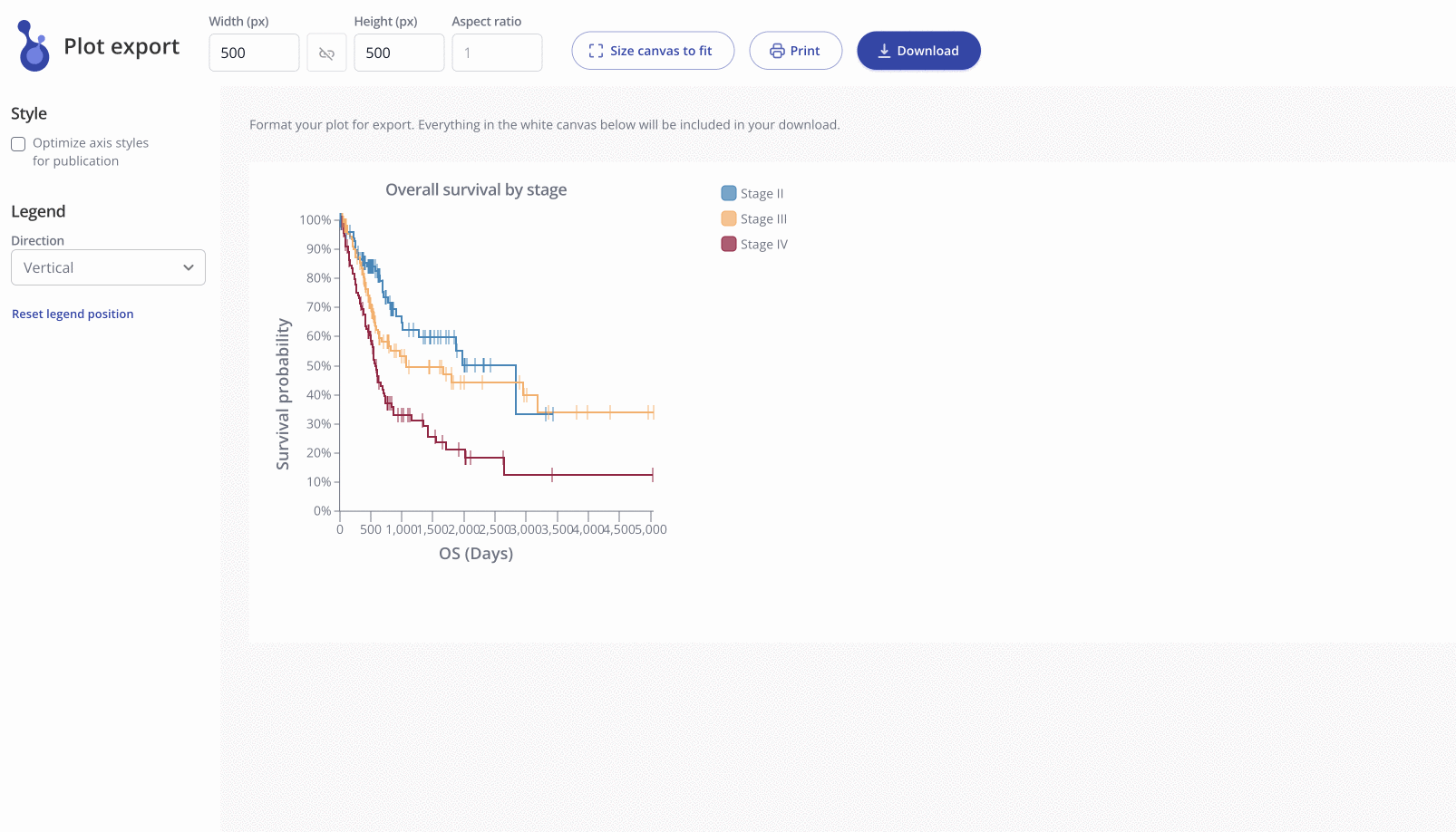 Hear from Rani Powers, our Founder & CEO, as she demonstrates Pluto's unique figure export in 2 minutes.
Customize any color
One of our users' top requested features this summer was customizing plot colors and palettes. We're delighted to announce that you can design beautiful figures by hand-picking each color for your figures. Plus, save your favorite colors for later, or even define company-approved palettes.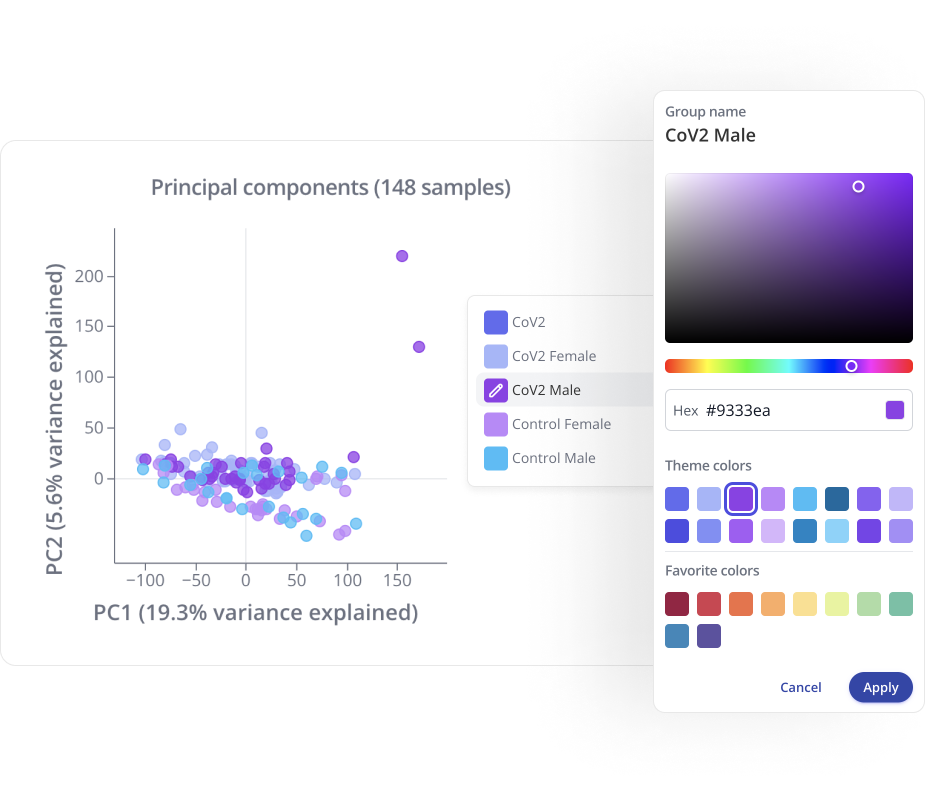 Embeddable plots
"Can you send me the latest version of that plot?"
Tired of sharing static plots back and forth by email only for them to become out of date? Invite team members to Pluto and collaborate on analysis securely, and in real time.
Level-up your team's productivity even further by live-embedding Pluto plots into electronic lab notebooks and other tools that your team already uses.
For a modern ELN capable of displaying Pluto's bioinformatics visualizations, check out Colabra - their sleek /pluto command makes embedding your interactive results as easy as copy+paste.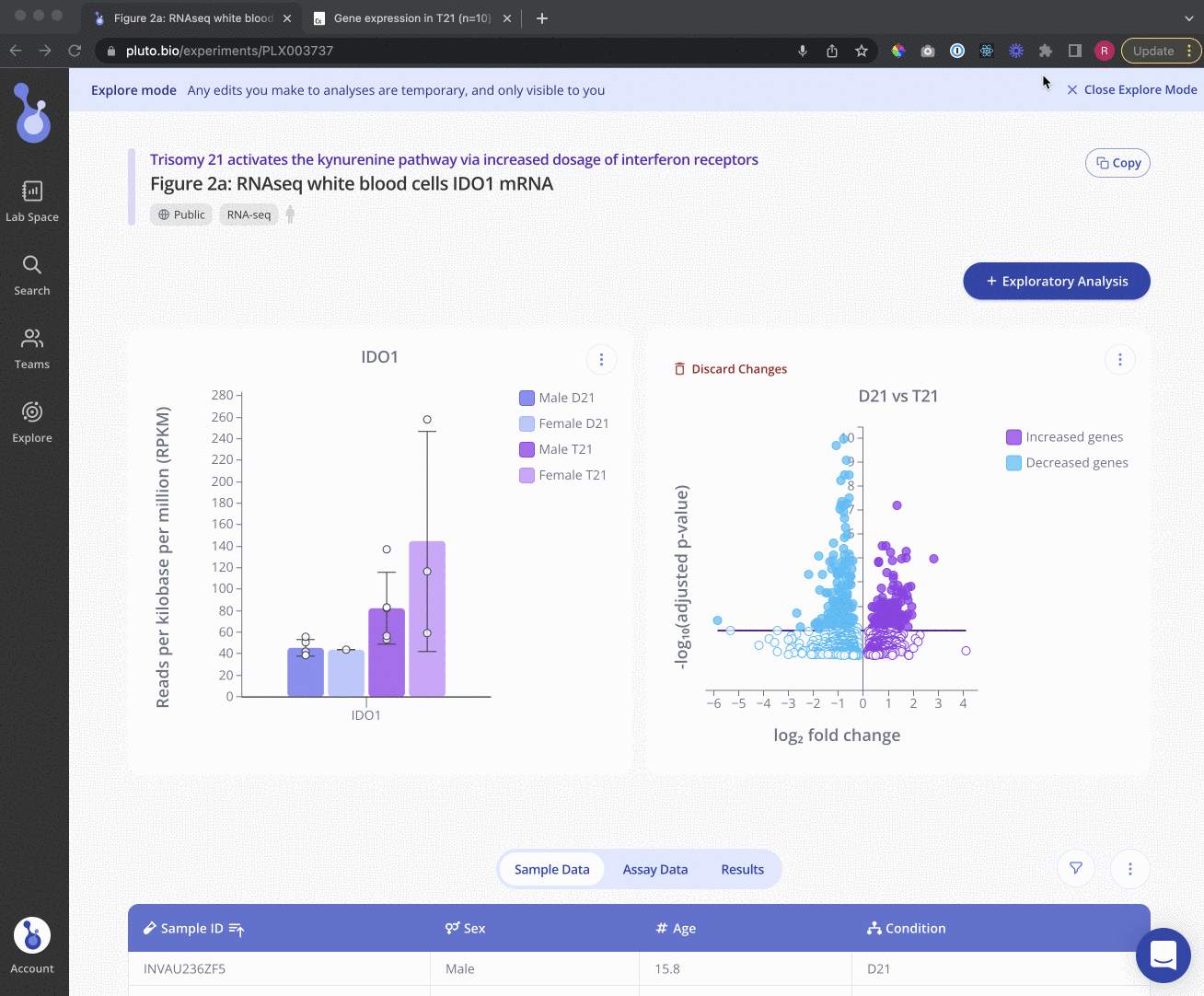 Learn more about using Pluto + Colabra, and check out some of the other products that support embedded Pluto plots!
"What parameters did we use to create that plot?"
Track your analysis and plot parameters with zero effort. Pluto plots write their own dynamic "methods section", which can be copied in one click, references and all. Methods are even available on embedded Pluto plots, allowing your results (and whole team) to stay in-sync and always know how results were generated.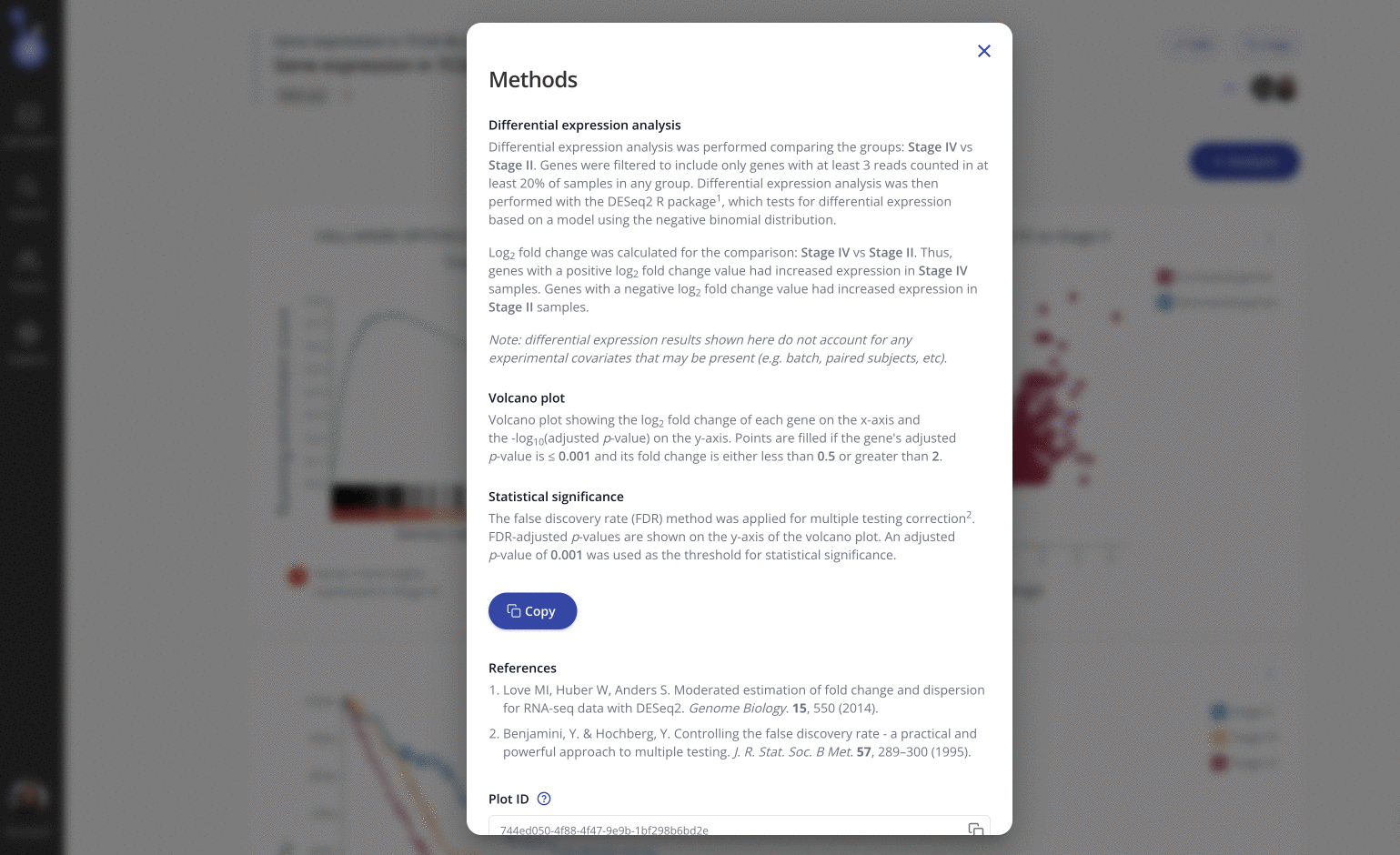 Search plots
"How did results compare across repeated assays?"
You can now see all your plots side-by-side and compare their results. Filter by project, organism, experiment, analysis, date, and plot type.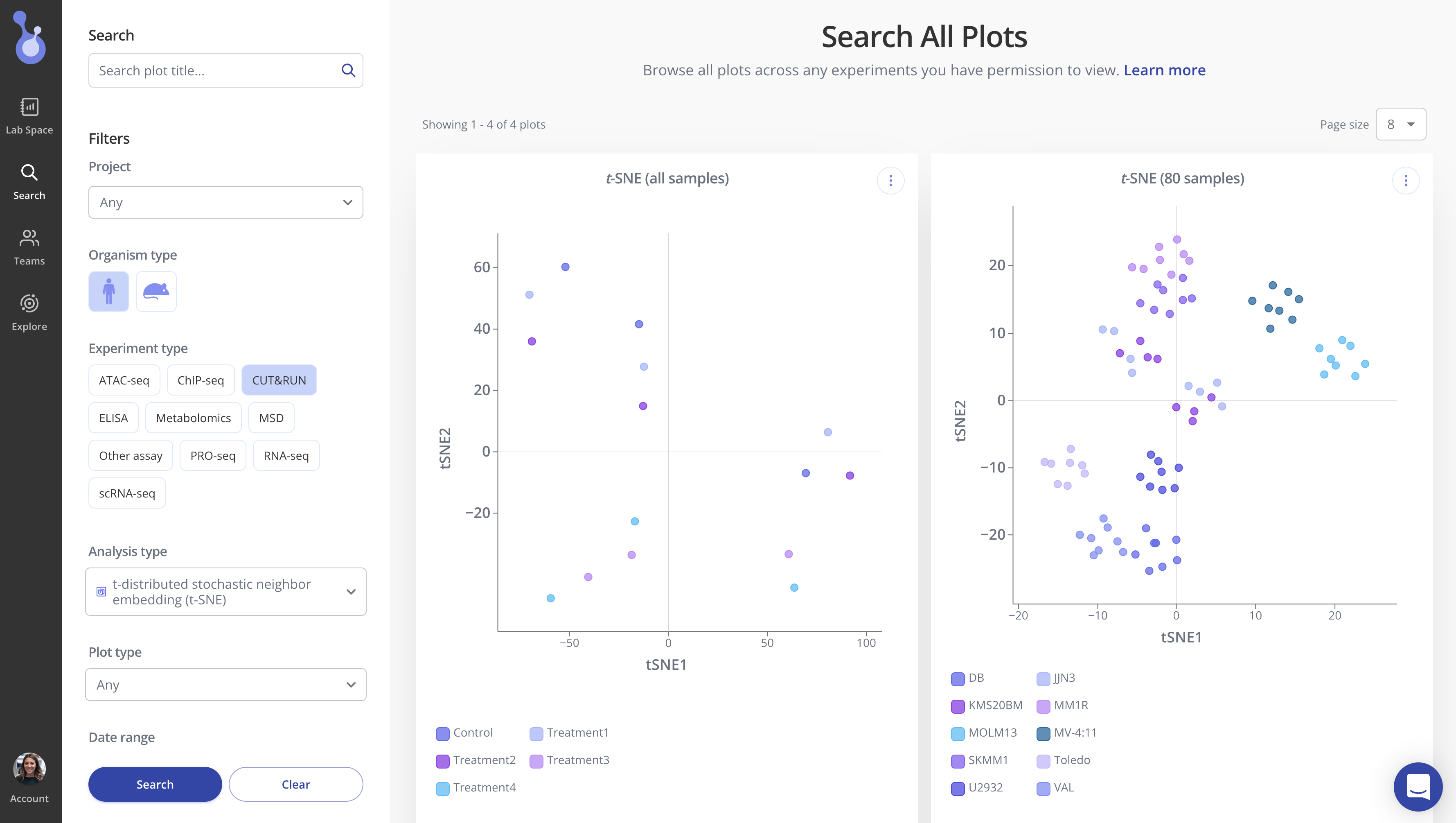 Clone-a-plot
"What if we tried a different p-value threshold?"
Want to try out a few variations of a similar analysis? Or just compare color palettes? Easily create new versions starting with the same plot using the Clone plot feature.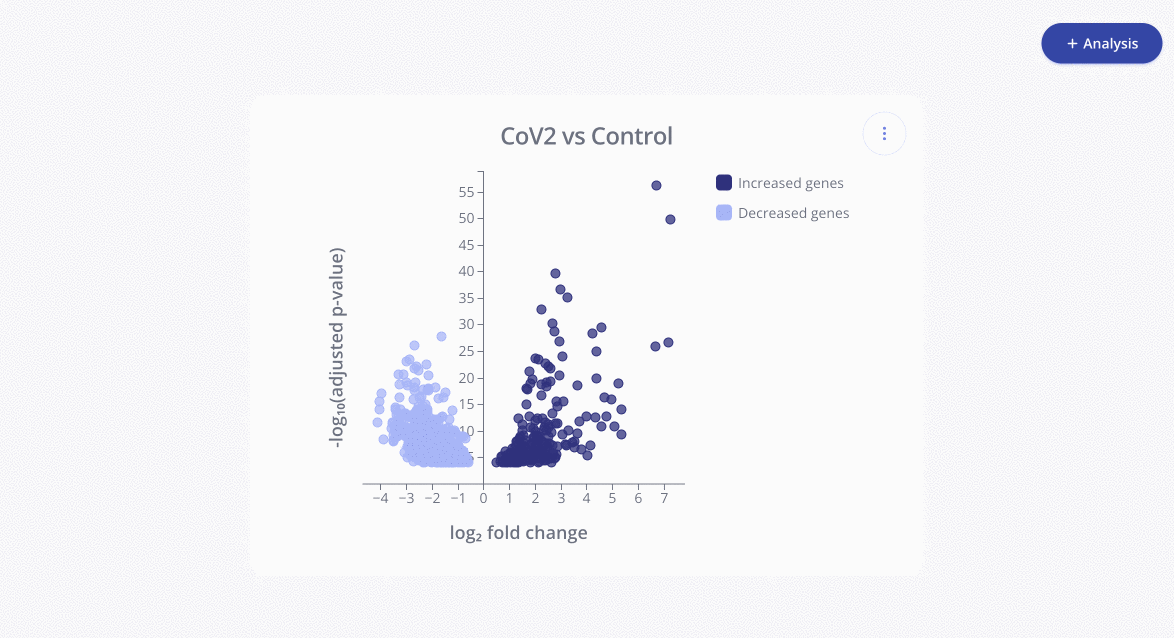 Download the data underlying every analysis & plot
When you run an analysis in Pluto, the full results are available to download from the Results tab, and can be fetched programmatically via the Pluto API.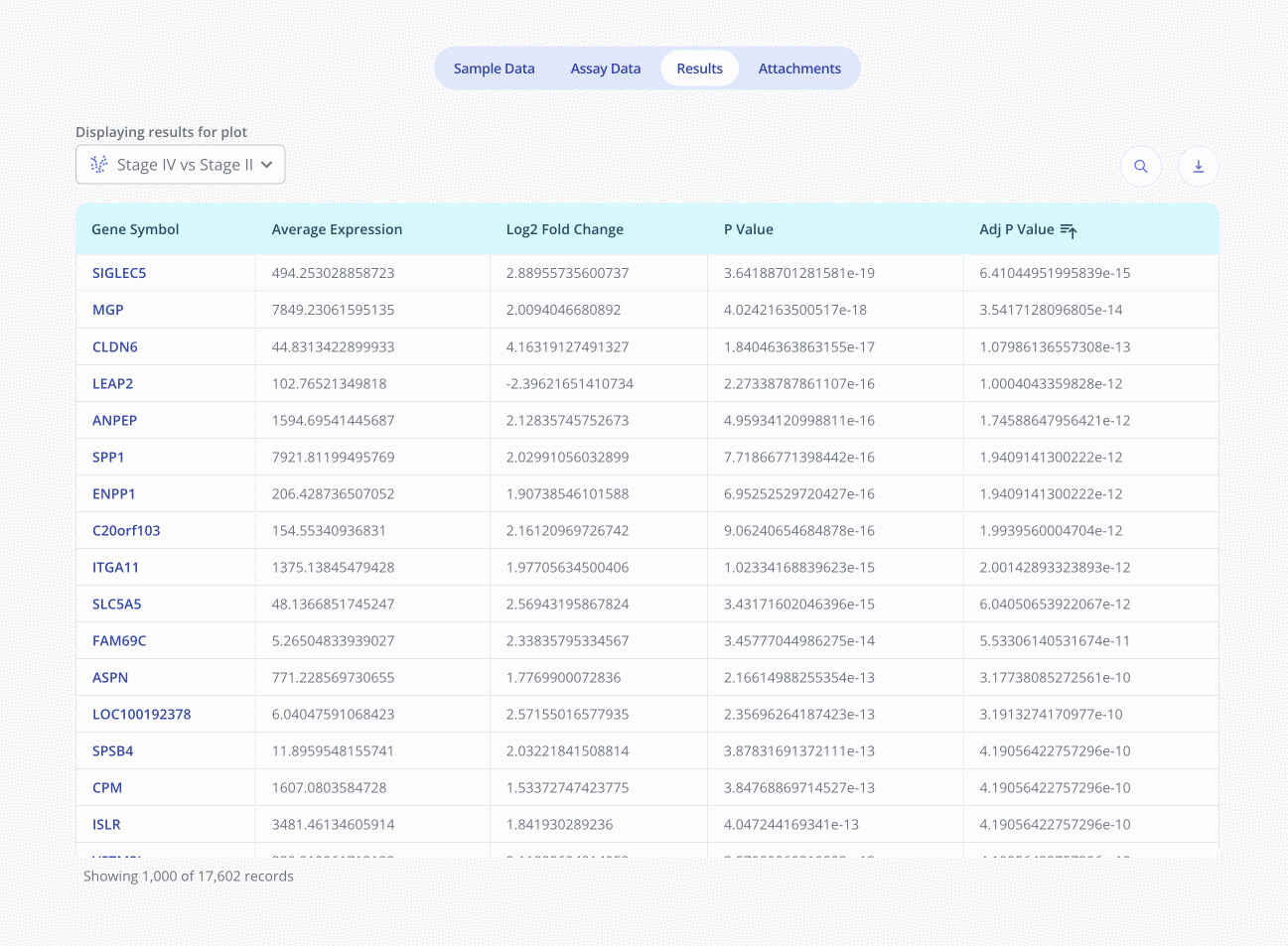 How much time could you be saving?
We'd love your feedback on these new plot-related features! Will they save your team time creating figures for presentations and publications? Anything we missed? Let us know your thoughts any time by shooting us an email at hello@pluto.bio.