Pluto is proud to be participating in the 41st annual JP Morgan Healthcare Conference. We look forward to meeting with potential partners via the BIO One-on-One Partnering™ at JPM Week 2023 and discussing ways that we can drive your discovery and development efforts forward together.
When: January 9-12th, 2023
Where: San Francisco Marriott Marquis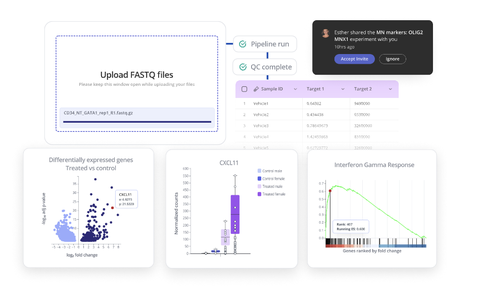 At Pluto, we've built a cloud-based platform enabling high velocity computational discovery and collaboration. Together, we can accelerate your scientific milestones faster than ever before. We believe that the future of pharma and biotech is dynamic - say goodbye to static reporting and explore Pluto's modern, intuitive approach to analysis and collaboration in life sciences.
With Pluto, your entire organization can securely manage raw and processed data, run complex bioinformatics analyses in an intuitive interface, track novel insights under projects and programs, and generate custom, presentation-ready plots in minutes.
Partner Opportunities
Executives
Pluto instantly modernizes your company's scientific technology stack to unlock productivity across the organization. Streamlining collaboration for your scientific and computational teams, Pluto also makes key scientific findings consistent, reproducible, and accessible to communications teams and executive-level stakeholders responsible for reporting out critical results.
CSO
Is bioinformatics becoming a bottleneck to your strategy? Whether you're currently lacking analysis support, or already working with in-house bioinformaticists or external consultants, Pluto instantly increases your throughput by empowering your biology teams with a platform to manage and analyze high- and low-throughput data themselves. Empower innovative ideas and novel biological understanding, while collaborating more efficiently with computational teams, now and in the future.
Computational Biology, Bioinformatics, and Data Science Teams
With cloud-based infrastructure built to scale, Pluto is your team's easy-to-use data ingest system for a wide variety of assays. Biologists can perform exploratory analyses and customize interactive plots in an intuitive, browser-based interface, while all analysis parameters and QC metrics are tracked automatically. Free up your team's time to work on novel algorithm development, complex analyses, and IP-generating contributions.
Scientists
Explore biologically-meaningful visualizations in your browser interactively, without waiting for IT or the bioinformatics team to pull the data. Iterate on your scientific discoveries, perform follow-up analyses, and customize visualizations for professional-grade presentations. Pluto allows you to understand and leverage your data to test scientific hypotheses.
---
Reach out to us directly or submit a meeting request on Pluto's BIO partnering page here.