November is Epilepsy Awareness Month and organizations, researchers, journals and foundations around the world are taking this time to come together as a community and address how to best use our resources towards improving outcomes for epilepsy patients. There have been exciting advances recently in new target identification, animal research models, biomarker discoveries and stem cell therapies.
Based on information from the Epilepsy Foundation's Epilepsy Pipeline Tracker, there are 13 newly marketed medications, 54 new drugs in development and 13 new formulations and delivery methods for existing medications. This data highlights the continuous effort by scientists, physicians and biotech companies in the field to bring better treatments to the market. This is crucially important in light of the editorial published in a special edition of Neuropharmacology from 2020, entitled "The feast and famine: Epilepsy treatment and treatment gaps in early 21st century" where the authors highlight a critical fact:
Even with the current number of medications available, the proportion of patients that don't respond to medication has remained around 35% between 1850 and 2020.
— Löscher and Klein, 2020
This incremental progress is most likely related to the heterogeneity of epilepsy disorders, with almost every patient presenting with a different type of seizure and very few common genetic variants to help group these patients together. These complexities highlight the need for different pre-clinical and clinical approaches as well as better data sharing and integration in the field to help support a more accelerated progress.
What can we all do to help?
Support organizations funding epilepsy research
There are numerous organizations funding research into epilepsy. Our friends at TESS Research Foundation are helping to diagnose, treat, and ultimately cure SLC13A5 Deficiency, a newly discovered genetic cause of epilepsy, by funding cutting-edge research and connecting families, doctors, and researchers. Check them out, and learn about other organizations and communities for additional ways to get involved.
Share your own research!
If you've gathered or published data related to epilepsy, making your data accessible goes a long way towards accelerating research towards better treatments! We're collecting experimental data related to epilepsy on Pluto, which anyone can access and interactive with a free Explore account.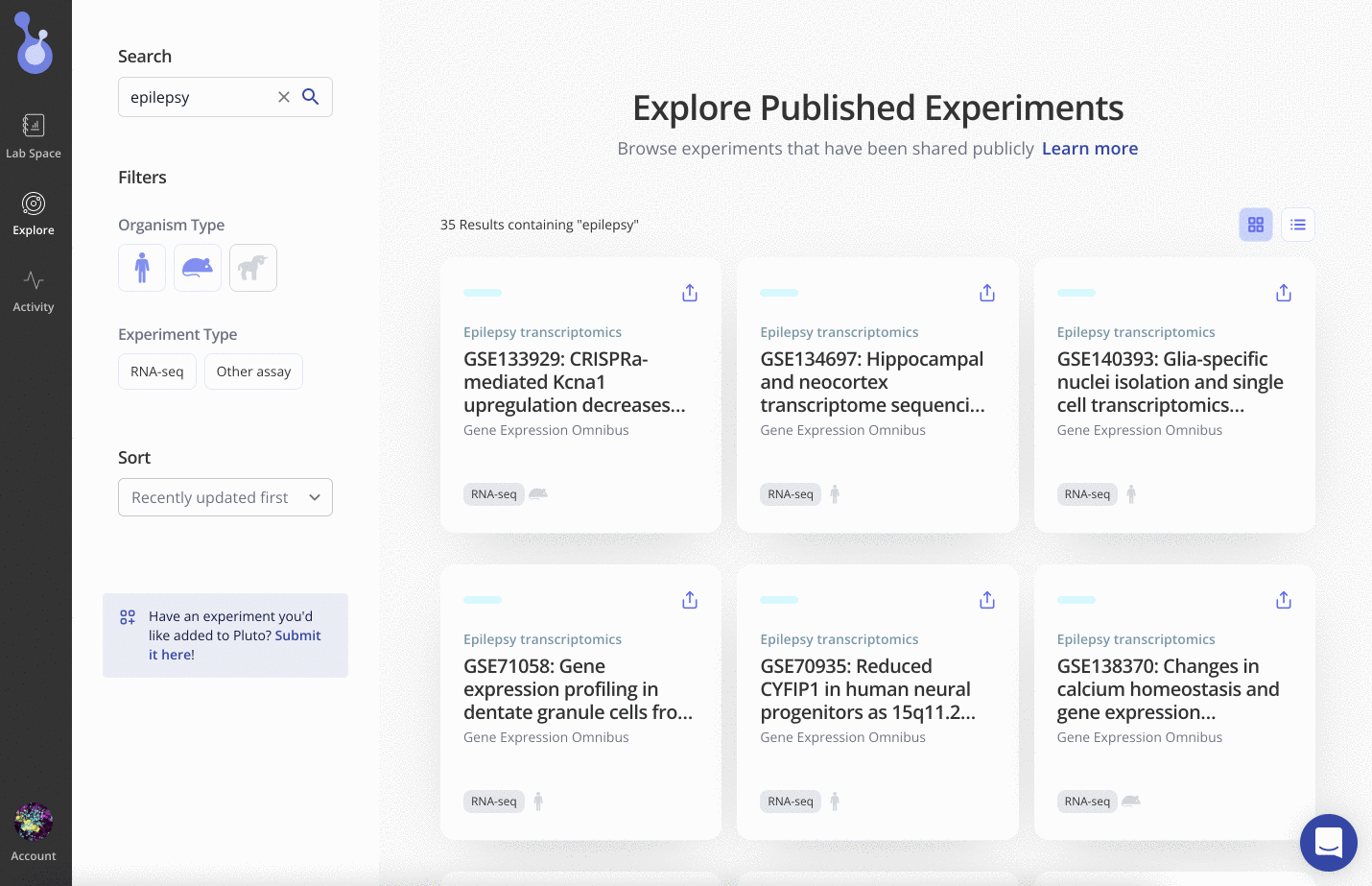 If you have data to contribute, let us know at success@pluto.bio and we will collect, format and upload it for you! Once in Pluto, other researchers in the field will be able to learn from it to further our collective knowledge and accelerate progress towards a better outcome for the patients and their caregivers.
References
Wolfgang Löscher, Pavel Klein; "The feast and famine: Epilepsy treatment and treatment gaps in early 21st century", Neuropharmacology, Volume 170, 2020. https://doi.org/10.1016/j.neuropharm.2020.108055.
Epilepsy foundation; Epilepsy Pipeline tracker https://www.epilepsy.com/pipeline-listing-page.
Pluto ensures that you not only have fast and reliable results so that you can continue to push the boundaries of knowledge, but that those results are also easily accessible, shareable and publishable right from your browser. Ready to give it a try? Contact us to schedule a personalized demo for your lab.