Preparing your lab for the 2023 NIH Data Management & Sharing Policy? Pluto is here to help.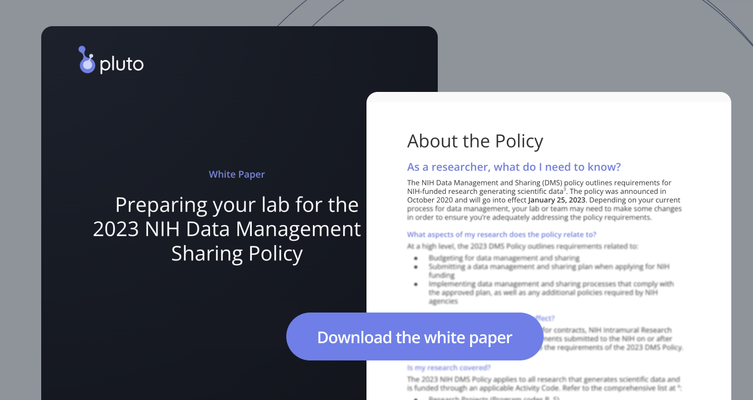 Overview
The National Institutes of Health (NIH) funds over 300,000 researchers, representing more than 2,500 research institutions, medical schools, and universities. The wide variety of active grants funded by NIH agencies can be browsed at the NIH RePORTER website.
Over the past 20 years, the increased availability of scientific data has accelerated biomedical research and novel discoveries. The benefits of data sharing include improved reproducibility, reuse of high-value data such as that from animal models or patients, and validation of research results across centers, research models, and replicate experiments.
In an effort to further promote the sharing of scientific data, NIH issued the Data Management and Sharing (DMS) policy, which goes into effect January 25, 2023.
Purpose of this white paper
In this white paper, we'll summarize timely topics including:
The types of data and research covered under the 2023 DMS Policy
The standards and requirements of the new policy
How your organization, lab, or team can efficiently prepare to meet the standards
As scientists ourselves, our goal in authoring this document is to educate other researchers on current initiatives and policies that directly impact their research, as well as address common challenges in order to provide helpful resources and recommendations for investigators seeking to maximize time and monetary resources while adjusting their team's practices to meet the required standards.
What you will learn
Overview of the initiative
About the policy
What aspects of your research does it apply to
When it goes into effect
If your research is covered
Purpose and outcomes
Checklist: Preparing for the DMS Policy
Additional information and links